CyoGate Gateway Virtual Terminal
An Easy and Low Cost Way to Process Credit Card Payments Online.
New To Merchant Accounts? Click here!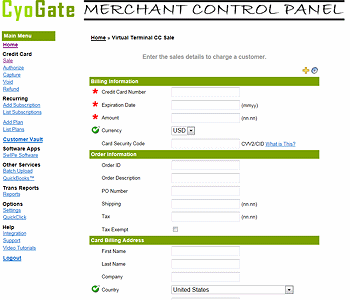 All CyoGate Internet Payment Gateway accounts include a feature-rich Virtual Terminal that privides numerous ways to process credit card payments online from virtually any website or ecommerce platform.
The Virtual Terminal itself (pictured right) acts like a typical "card-swipe" terminal, but it's used for card-not-present business transactions where there is no physical credit card to actually swipe. The Virtual Terminal is also much more robust than a typical card-swipe terminal and provides the following capabilities:
Process credit card sales, authorize/captures, voids, and refunds

Subscription billing and recurring payments without having to store sensitive customer credit card data

Batch upload processing support

QuickBooks® export or full QuickBooks® integration using SyncPay

Free ecommerce shopping cart along with our "QuickClick" button generator makes it easy to ecommerce enable any web page and it doesn't require any additional software or an SSL certificate to be installed on your website. Merchants are able to customize the look and feel of their shopping cart pages.

True API Integration with published documentation allows integration with virtually any system or software application. There are dozens of shopping cart API's written for most popular ecommerce applications and store-fronts.

Free SwIPe software enables merchants to process card-present transactions utilizing a Windows PC with an inexpensive magnetic stripe reader

Optional Customer Vault allows you to tokenize and store customer payment information securely in our Level 1 PCI certified data facility. Once the customer record has been added to the Customer Vault, transactions may be initiated remotely without having to access cardholder information directly.

Detailed transaction reports

Online video tutorials

More!
To request a demonstration of the CyoGate Virtual Terminal, please contact us today!

Apply for a Merchant Account Signup for the Payment Gateway